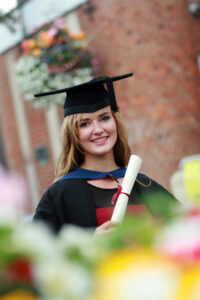 Reaseheath equine science graduate Charlotte Woolley excelled during her internship at the world's leading equine breeding and research centre.
Charlotte, 21, who graduated with First Class Honours in September 2014, spent a summer working and studying at the Middleburg Agricultural Research and Extension (MARE) Center, part of the Virginia Tech State University, USA. The university specialises in breeding and producing top quality sports horses. She trained in veterinary techniques and assisted with research into nutrition, reproduction and parasitology. She also helped to prepare youngstock for the showring and ran educational outreach workshops with children. Keeping a track of her adventures whilst working out in Virginia, Charlotte wrote a blog, My Virginian Ventures, to document her research and experiences.
Aiming for a career as a veterinary research scientist, Charlotte went on to complete her Masters in Animal Biosciences at the University of Edinburgh and has recently been awarded a funded PhD with The Royal (Dick) School of Veterinary Studies, University of Edinburgh to research canine epidemiology and genetics.
She says: "The internship was a fantastic experience – truly life changing.  I've built on both my academic and practical skills and broadened my horizons in terms of my current knowledge of the equine industry."
Originally from Buxton, Charlotte completed  A levels at Leek College before embarking on her degree. She has ridden from a young age and has successfully competed at showjumping and showing competitions across the UK. She currently lives in Nantwich.
Charlotte adds: "I really enjoyed studying for my degree at Reaseheath. There's a great atmosphere and you get lots of individual support from your lecturers."