Reaseheath alumnus Lorraine Evans contacted Reaseheath Alumni Association after a recent visit to our annual Live Lambing event. We were delighted to hear some fantastic news from Lorraine along with a selection of recollections from her time at the Cheshire College of Agriculture.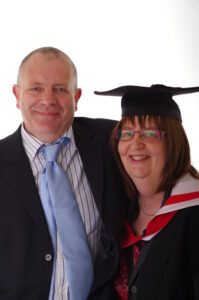 Former Reaseheath student Lorraine Evans (nee Boydell) recently celebrated her 33rd wedding anniversary to husband and fellow former student Graham Evans. Lorraine and Graham met whilst both studying at the College 1979-1980. Whist Lorraine studied for her OND in Food Technology partner Graham trained in Dairy Herd Management. Living on campus the couple's romance blossomed and as a result were engaged to marry on the 15th May 1980. The engagement was an extra special surprise for Lorraine, as this also marked her 19th birthday!
To this day, Lorraine and Graham remain as happy as the day they met as students at Reaseheath. On the 14th March 2014 the couple celebrated their 33rd wedding anniversary. The very same day saw Lorraine graduate with an MA in Education from University of Chester.
Lorraine commented: "I am very proud to have completed my Masters as it was a particularly challenging venture. Graham has wholeheartedly supported me throughout the process and, without him by my side, I would not have been able achieve this.  The fact that our wedding anniversary fell on the same day as my graduation made it an extra special celebration for both of us".
Since leaving the College the couple have gone on to pave successful careers. Lorraine currently works in education with the Virtual School in Cheshire West and Chester and Graham is a bus driver based in Chester.