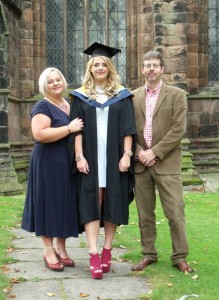 After graduating with a degree in Food Industry with Management in 2014, Imogen Johnson landed her dream job in New Product Development with Street Eats, the Chester based sandwich and street-food manufacturer.
As Street Eats 'Development Technologist', Imogen, 22, develops new recipes, helps monitor product quality and researches market trends ('breadless sandwiches' are very on trend at present). She's is also responsible for sourcing new ingredients and photographing the latest tasty creations ready for launch.
Working closely with Street Eats' Head of Innovation and Procurement, Mark Arnold, Imogen has the chance to work with a variety of different customers. Street Eats currently supplies sandwiches, hand held street food snacks and curries to a range of organisations such as, hospitals, schools and colleges, including the current range of sandwiches served in the Reaseheath College Restaurant.
Imogen believes that her BSc top-up and the Foundation Degree in Food Industry with Management which she completed beforehand gave her the skills and experience to achieve her new role. One particularly realistic challenge was set by a leading supermarket to create a tempting new deli product, which proved especially significant. Imogen and fellow students were tasked with developing their dishes in line with consumer feedback while keeping a strict eye on profit margins, costings, packaging and labour.
In her role, Imogen continues to draw on the knowledge she gained during her studies on a daily basis such as food safety, nutrition, marketing and product positioning.
Said Imogen: "I'm really enjoying the experience and challenge of my job. It's great to be involved in the whole development process, from the initial ideas stages right through to the final product. Most recently I was involved in launching an innovative toastie concept inspired by the Korean vegetable dish, kimchee."